CORONAVIRUS UPDATE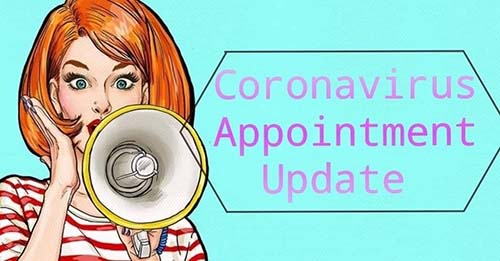 All of us have been affected by the Coronavirus (COVID-19) pandemic and whilst Indulgent Therapies still remains temporarily closed for treatments – the online shop is still operating as normal. As we are all hopeful that some of the restrictions will soon be lifted I am starting to plan ahead for when treatments can resume!
SAFETY FIRST!
To ensure I am up to date with the latest guidance, in addition to following Government advice I have completed a Coronavirus (COVID-19) Infection Prevention and Control Course and I have since made a number of changes in the way that I operate that you will notice when you next visit.
My priority is to ensure that everybody stays as safe as possible, whilst still being able to enjoy their services. Therefore, prior to re-opening I have implemented a number of changes which I would like to make you aware of:
Indulgent Therapies Covid – 19 Regulations
Attendance of your appointment will only be for the individual receiving the service. Children, friends and relatives will not be able to join you.
If you or any other people you live with are ill or display any symptoms of COVID-19 please contact me as soon as possible and DO NOT ATTEND YOUR APPOINTMENT.
When you arrive to your appointment, please wait in your car until I inform you to enter the premises. – This is to ensure social distancing regulations can continue to be enforced. – I will try my utmost to not have you waiting too long!
Before/after EVERY CLIENT, advanced methods of sanitisation, sterilisation and disinfection will be conducted for my working area, tools and your treatment facilities. Please be patient, this is for the safety of us all!
All clients MUST attend their appointments wearing a protective face mask and wear this throughout your service when appropriate. If you are unable to obtain a mask/suitable facial covering please let me know. I will also be wearing appropriate personal protective equipment such as a mask and fresh disposable gloves for each client.
Upon arrival and once your services are complete you will be required to wash your hands with my antibacterial wash AND use the disinfectant sprays/sanitisers provided.
I will of course continue to follow Government guidance and update any measures accordingly.
If you already have pre-booked appointments, (I know some of you block book in advance for the full year!) once pampering can recommence these will still remain in place as already planned – no changes.
If you have had an appointment that has had to be cancelled due to the lockdown, once all restrictions are lifted you will be given priority booking and I will contact you direct to reschedule these missed appointments.
If you don't have any appointments that where pre planned but would like to schedule a new booking just let me know so I can contact you asap too. I'm going to be a woman in demand, therefore my availability will book up very quickly once pampering can resume as normal!
Thank you again, I appreciate all of your co-operation during these adjustments and I very much look forward to welcoming you soon.
Stay safe, take care and best wishes, Jo xx